Ambiance SS19
Ambiance 19SS showroom 2018/9/18(TUE) – 20(THU) 10:30-19:00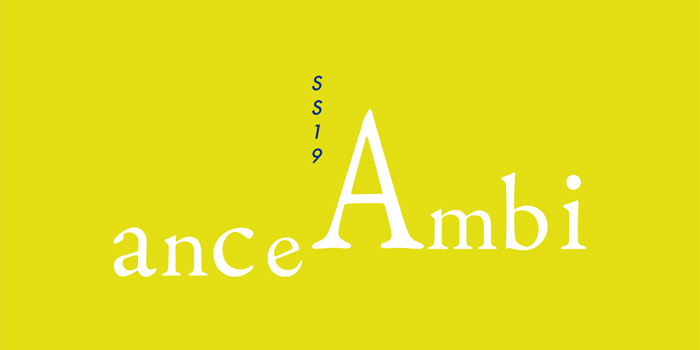 高級素材を使用したラグジュアリーブランドGREESE・ラトビアの麻使いが特徴な大人可愛いANNA LED・モード×スポーティーミックスなADDICT NOIR・ ダッドシューズあります!TTZO・ブラウス大得意!お手頃なilme・イタリアならではの使いやすいデザインの帽子GI'N'GI、その他、大人気なカットソー、 BAG、ジュエリー、ポルトガルのアート作品などなど、全29ブランドの素敵なコレクションが揃いました。
受注会・POPUP可能なブランドもたくさんご紹介いたします!
KINDLY LET US KNOW YOUR PREFERRED DAY & TIME FOR AN APOINTMENT IN OUR TOKYO SHOWROOM.
GREESE Women's wear China, Japan

ANNA LED Women's wear Worldwide

ADDICT NOIR Women's wear Japan

TTZO BARCELONA Women's, Men's sports shoes Worldwide

ilme Women's wear Japan

GI'N'GI Hats Worldwide

AAN Women's wear Worldwide

Ammoment Leather bags, accessories Worldwide

CODENAME:LOOLAPALOOZA Unisexwear Worldwide

NAGAE+ Lifestyle accessories Japan
VISIT SHOW and ORDER! Discover emerging and established brands.
DECORATION
ポルトガルから日本へ。紙で出来た可愛いアート作品MARIAS paperdolls のミューズシリーズがご覧になれます!
The modern concept for environment, PAPER DOLLS were born with artistic expression of recycled papers & balloons. MARIAS are with intricate paint and colored by each fantastic story and personality.